Espresso is a lovely and sophisticated drink. To most coffee enthusiasts, the sweet, creamy syrup of a well-drawn shot of espresso finest captures the mood of outstanding coffee. A good espresso must be sweet, rich, and creamy, with only a trace of bitterness. Unfortunately, not everybody understands how to make espresso coffee properly for the finest results. 
Let's check out some of the most popular techniques of preparing espresso, both with and without a coffee machine, to have a better grasp of this much-maligned drink. 
What Exactly is Espresso?
The most prevalent misunderstandings about espresso are that it is prepared from a certain coffee bean or a label for a specific roasting method. The description of espresso has nothing to do with the origin or kind of coffee bean, nor does it have anything to do with the roasting method. 
In truth, what distinguishes espresso from other types of coffee is how it is made. There are three major distinctions between espresso and ordinary coffee: 
● The bean kind: Espresso is often made from specialized espresso beans, whereas coffee is made from roasted beans. However, this isn't a significant differential because you can brew espresso from the appropriate coffee beans and espresso beans.
● Method of preparation: The most major distinction between regular coffee and espresso is how the beverages are prepared. Espresso is created by passing hot water via finely crushed and tightly packed coffee grounds. This procedure brings out the intense flavor that we associate with espresso. Coffee is often made by allowing hot water and grinds to mix for a longer period, and also, the brewing process is slower. 
● Crema: When prepared with high-quality equipment, espresso has a distinct foam coating at the top, known as crema. When regular coffee is made, there is no foam.
While this is excellent for experts in a laboratory or a high-end café, everything you need to understand is that espresso is a small, extremely concentrated coffee cup produced under high pressure in a short period. 
The espresso's most remarkable trait is it doesn't specify the brand of coffee used, the roast, or any specifications, including how this drink is made.
How To Make Espresso Coffee With A Machine
An espresso machine is required to create authentic Italian espresso at home that rivals what you'd receive in a coffee shop. These machines range from manual to automated and capsule, in which you push a button, and the machine will do the rest. 
Step1. Prepare your beans
We recommend using a medium or dark roast coffee for preparing espresso using one of the techniques listed below. 
Grind for one or two dark roast beans shots utilizing a decent grinder. Each espresso shot typically requires 6 to 8 grams of grinds. However, this can be modified up or down. About 15 grams for a double shot. 
Because your grinds must be powdered and fine, utilize the finest preset on the grinder. You may measure your grinds on a food scale. If you'd rather be sure you measured accurately, make sure to tear out all the portafilter beforehand. 
Step 2. Distribute your shot and tamp it down
Once you've reached the desired quantity of grounds in the portafilter, distribute them evenly with your finger, put the portafilter on any hard surface, and then tamp down on your coffee grounds with a tamper. Then, you'll need a small disk of espresso in the portafilter. 
After that, you'll have a compact disk of espresso in the portafilter. 
Step 3. Take your shot
Before you begin, quickly run the device without a portafilter in position to clean the ground head. Next, insert the portafilter into your machine, place the demitasse glass and another vessel beneath it, and begin your shot. The espresso should be finished in about 25 to 30 seconds, but it will take some skill with your machine and several taste tests to get the amounts you want. (Some PCs require you to manually time it, while others have alternative defaults.) 
The finished result should not be too light or dark in color, nor does it taste too acidic and bitter, and it must be topped with a fine coating of caramel-colored crema. 
Step 4. Add topping
Prepare the milk if using, and sip your espresso. If you want to prepare a latte or any milk-based drink, you need to boil your milk first. Otherwise, sip your espresso as is. Once you're finished, be sure to clean and dry your portafilter, and also purge, then wipe out the milk froth wands.
How To Make Espresso Coffee Without A Machine
How do you get an espresso if you don't feel like leaving your accommodation? In reality, your basic barista skills will most likely not result in the ideal espresso without the proper equipment. However, with these guides, you'll be able to make a rich-tasting espresso with several simples to come by and much less expensive tools, and you will not even need a professional coffee machine.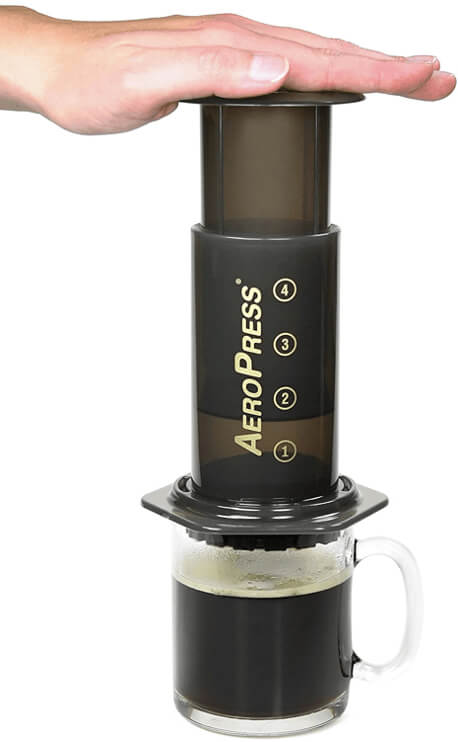 Method 1: The Aeropress 
The ideal shot of espresso, unlike an ordinary cup of coffee, is mostly about pressure. The AeroPress, with the term "press" in its name, is an excellent choice for simulating espresso.
Although this texture may be different from that of a sophisticated machine, the taste and caffeine levels of an AeroPress "espresso" equal a machine coffee. 
What You'll Need 
AeroPress 
Superior grade coffee beans 
A teaspoon or a scale 
Grinder 
Step 1: Make a stack of your AeroPress. Insert a filter into the drain cap, if possible, use many filters to restrict the water flow while pushing
Step 2: Insert a filter into the cap of the drain; if possible, use many filters to restrict water flow while pushing. After lightly rinsing the filter, put the cap and coffee filter into the press chamber. Set this press on your sturdy mug. 
Step 3: Grind the beans until they resemble table salt to make roughly two teaspoons of coffee, then place them in the coffee filter.
Step 4: It's worth noting that taking more coffee than usual during these impromptu brewing sessions may work to your advantage since it will result in a more consistently concentrated dose. 
Step 5: Add hot water for about 3 1/2 fluid ounces, at 200 degrees. Mix in your coffee and then, firmly press them down on a plunger. 
Step 6: Keep in mind that the quality of the espresso is determined by the amount of pressure used. Pour your espresso into your demitasse cup and serve. 
Method 2: The Moka Pot 
The Moka pot is the coffee brewing equivalent of a Swiss army knife. This handy tool creates an espresso-like pour that both calms the spirit and puts a spring in your stride. You'll receive a flavor that isn't coffee or espresso, but it's still delicious. 
What You'll Need
The Moka pot 
High-quality coffee beans
A teaspoon or a scale 
Step 1: Weight 2 teaspoons of regular coffee or other high-quality coffee, approximately 20 grams. Grind your beans finely as you can. 
Step 2: Fill the pot's bottom with water for about 3 1/2 fluid ounces. Shake the ground of coffee into a built-in coffee filter to settle them. Screw the spouted lid of your Moka pot securely on and put it on medium heat. 
Step 3: The rest of your procedure is similar to waiting for a boiling pot to whistle. 
Step 4: Wait till the coffee in the pot's higher level starts to expand and froth; the hot water might generate the pressure necessary to make a strong coffee with a touch of foam. Pour the coffee into your demitasse whenever the top is full, and enjoy! 
Note that the Moka Pot is an imprecise craft, so this might take a few attempts before you discover the ideal method! 
Method 3: The French Press 
Among the most widely possessed coffee materials, the French press will surely offer you a concentrated brew if you make it correctly, but we only suggest it as a last-resort choice. 
The French press will get you there, but it lacks the focused impact of the other two approaches.
Your coffee shot would also be somewhat more greasy, and this approach adds a few extra steps between you and the caffeine. 
What You'll Need
The France press 
High-quality coffee beans 
A tablespoon or a scale 
Kettle 
Step 1: Grind a minimum of two teaspoons of the Atlas coffee. Because it won't be as bubbly as a Moka pot or AeroPress, you'll want more coffee than what you think for more richness of the drink. 
Step 2: Boil 1 cup of water in the kettle to slightly about 200 degrees. Next, put the coffee grinds into your French press. 
Step 3: Bloom the coffee, unleash the taste nuances of your specific beans by putting a dash of boiled water.
Step 4: Drizzle the remaining water over your grounds (1). Let the coffee steep for around 4 minutes after closing the cover. 
Step 5: Slowly and steadily, halfway down, push your plunger. 
Step 6: Raise it via the ladder, then dive down with equal stress. Pour your coffee into a cup of your choice and enjoy! 
Do you know that you are absolutely able to make other kinds of coffee with this French press? Check out this video to learn to make a latte with this multifunction device.
Final Thought  
Depending on the ways we've described above, it's no exaggeration to say that there are several things you must consider to obtain a high-quality cup of espresso. Therefore, there is certainly a learning process to brewing excellent quality espresso to please your sense of taste.
On the plus side, these gadgets: Aeropress, Moka pot, and French Press will set you back a fortune in saving money for coffee. And by honing your abilities, you can produce high-quality espresso at a fraction of the expense. However, it is more probable that you will make a one-time investment in the espresso-making device that will serve you for many years if you are too busy.
We hope this post has answered all of your questions on how to make espresso coffee on a suitable budget. Don't hesitate to communicate with us through the comment section below and share your knowledge about espresso.